I love headphones, so I was pleased to find these rather 'Leftfield' designs in the last few days.
This rather snazzy design aims to solves the problem of getting your wires tangled when you put your headphones away. The 'zip' also serves as an inline remote control for your music player (see below). Unfortunately, this design remains a
Japanese concept
at the moment.
Inter-locking Earphones
Sadly, this headphones are also just a concept at the moment. Although their 'USP' is hard to spot at a glance, the headphones can in face be interlocked behind your neck whilst wearing them. This is useful if you don't want your cans dangling into a cup of coffee when you take them out to talk to someone.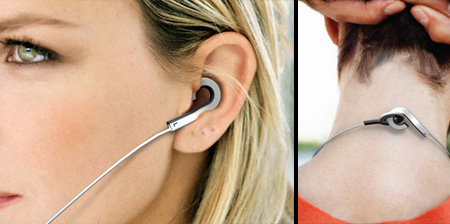 Magnetic Earphones
Working in a similar way to clip on earphones, these headphones come in all sorts of designs. I personally think they'd be really handy for the gym/running/using a pneumatic drill, etc.
Available exclusively in Japan...
I Believe I Can Fly...
These slightly ostentatious headphones took first prize in a competition run by Nokia. They are inspired by R.Kellys classic track which featured in one of my favourite childhood flicks, Space Jam. To check out the rest of the competition prize winners, click
here.
There is a pretty nifty looking pair inspired by Thriller!